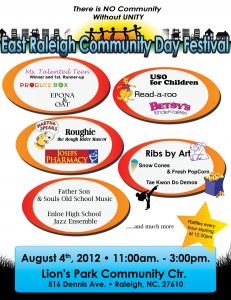 Hey there Eastsiders!
Don't forget that this Saturday – August 4th – is the 2012 East CAC Community Day! This year's theme is "There is no COMMUNITY without UNITY." It will be held at Lion's Park from 11:00 – 3:00 and you won't want to miss it! We're having free food, free music and all kinds of other free stuff! Come and enjoy the festivities with your neighbors – meet new friends, enjoy good eats and music, bring unity to our community!
We look forward to seeing you there!
Tags: East CAC